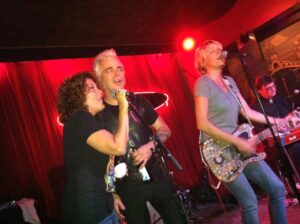 Quenby Iandiorio was introduced to the Country/Americana scene during her time in LA from `97-`09. But after years of enjoying her friends from out front, she decided it was time to have a go at it from up on stage. Late in `07 she picked up the guitar in earnest which was followed very quickly by recording her first song and shortly after by compiling her first band. By `09, Q's desire to take the band all the way made a move to Texas inevitable, so she and original drummer, Clint Short (Shurman, Stonehoney, Weldon Henson), pulled up stakes and relocated to Austin.
Since then she has made four successful tours of the Northern and Northwestern U.S. resulting in her latest move to Livingston, MT from where she books and maintains a full-time performing and touring schedule with local musicians with a stable of talented local musicians.
Now Q & the WOW Band plays a variety of genres including Vintage rock n' roll, Americana, Country, Outlaw Country and Classic Country which include songs from Merle Haggard, Buck Owens, Wanda Jackson, Dwight Yoakam Mary Gauthier, The Mavericks, Waylon Jennings, George Jones, Patsy Cline and many more as well as a bevy of originals that span the same spectrum.
This year Quenby has enjoyed touring her follow-up release, "Pretty Little Thing", recorded with friends and collaborators in Austin, TX following her debut album, "Long Time Comin'" from `09. First stop on her PLT was New England in May and she is currently putting together a tour for Central Texas in February and the Pacific Northwest in March.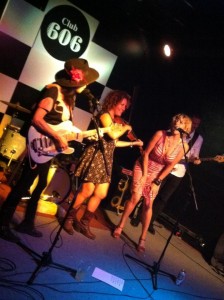 Now Q & the WOW Band plays a wide variety of Vintage Country, Contemporary (not Pop), Outlaw and Classic popular covers as well as originals which include songs from Merle Haggard, Buck Owens, Jerry Reed, Mary Gauthier, The Mavericks, Waylon Jennings, George Jones, Patsy Cline, Lucinda Williams and many more!
FILM CREDITS:
Q's original music can be found in the films "Doonby" starring John Schneider (Dukes of Hazzard) and Robert Davi (Goonies; Die Hard; License To Kill) and "Deep in the Heart' starring John Gries (Napolean Dynamite; Real Genius; Natural Selection), Elaine Hendrix (The Parent Trap; Romy and Michele's High School Reunion) and Val Kilmer (Top Secret; The Doors; Tombstone).
The band is also pleased to have played once and then an encore performance for the cast, crew, investors and fans of the SXSW's "Best Narrative Feature" 7-time winner, "Natural Selection" starring John Gries, Rachael Harris (The Hangover; Diary Of A Wimpy Kid) and John Diehl (Stripes; Stargate).
RADIO/INTERNET:
Quenby & the West of Wayland Band can be heard on the radio at 88.5 KCSN in Los Angeles, 91.5 WMFO in Boston, KGLT in Bozeman, KUFM in Missoula/Montana Public Radio, 91.3 KBCS in Seattle/Bellevue, 95.3 KOOK, Junction, TX and 92.3 KNRG, La Grange, TX. They can also be heard online at
– Live 365's Honky Tonk Junky show (http://www.live365.com/stations/honkytonkjunkie)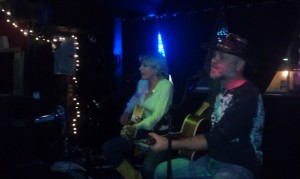 – Ralph's Back Porch (http://www.ralphsbackporch.com/ )
– Dakota's International Brick Wall Artist Concepts (http://www.myspace.com/poetdakota ) where they are featured as the Artist of the Month.