For booking, contact Q&A Talent at (512) 698-1360 or email


[email protected]
"MusicRanchRadio.com Jimmy Kujala Interviews Quenby, Oct 18, 2016"
"Radio Interview by Bob Butts all about 'Pretty Little Thing' with Quenby and guest Heidi Lea" ~ KGLT FM Radio KGLT.net Bozeman 91.9 / 97.1 & Livingston 89.5 from June 7, 2016
KGLT FM Radio Station ID announcement KGLT.net Bozeman 91.9 / 97.1 & Livingston 89.5 from – from Spring 2016
"Quenby and the West of Wayland Band return to Eagles" ~ Lewistown News-Argus from the January 14, 2015 edition
"Quenby brings WOW factor to Silver Dollar" ~ Jackson Hole News from the April 16, 2014 edition
"The return of sultry songstress Quenby Iandiorio" ~ Bozone's RollingZone from the March 1, 2014 edition
"Radio Interview of Quenby by Bob Butts" ~ KGLT FM Radio Bozeman 91.9 from February 26, 2013
"Radio Interview by Bob Butts all about 'Pretty Little Thing' with Quenby and guest Heidi Lea" ~ KGLT FM Radio KGLT.net Bozeman 91.9 / 97.1 & Livingston 89.5 from June 7, 2016
KGLT FM Radio Station ID announcement KGLT.net Bozeman 91.9 / 97.1 & Livingston 89.5 from – from Spring 2016
FILM CREDITS:
Q's original music can be found in the films "Doonby" starring John Schneider (Dukes of Hazzard) and Robert Davi (Goonies; Die Hard; License To Kill) and "Deep in the Heart' starring John Gries (Napolean Dynamite; Real Genius; Natural Selection), Elaine Hendrix (The Parent Trap; Romy and Michele's High School Reunion) and Val Kilmer (Top Secret; The Doors; Tombstone).
The band is also pleased to have played once and then an encore performance for the cast, crew, investors and fans of the SXSW's "Best Narrative Feature" 7-time winner, "Natural Selection" starring John Gries, Rachael Harris (The Hangover; Diary Of A Wimpy Kid) and John Diehl (Stripes; Stargate).
RADIO/INTERNET:
Quenby & the West of Wayland Band can be heard on the radio at 88.5 KCSN in Los Angeles, 91.5 WMFO in Boston, KGLT in Bozeman, KUFM in Missoula/Montana Public Radio, 91.3 KBCS in Seattle/Bellevue, 95.3 KOOK, Junction, TX and 92.3 KNRG, La Grange, TX. They can also be heard online at
– Live 365's Honky Tonk Junky show (http://www.live365.com/stations/honkytonkjunkie)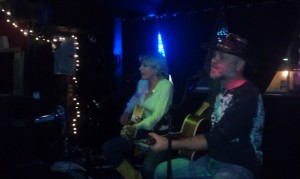 – Ralph's Back Porch (http://www.ralphsbackporch.com/ )
– Dakota's International Brick Wall Artist Concepts (http://www.myspace.com/poetdakota ) where they are featured as the Artist of the Month.
WHAT PEOPLE ARE SAYING:
"If Sugarland and The Allman Brothers ever made love, their baby would sound like Quenby & the West of Wayland Band. Quenby sings as good as she looks, the guitars and strings keep you movin', and they have this authentic, "feel-good sound" so many mainstream bands lack.
You'll want to crank up "Train Whistle" in your car, and slow dance forever to "Long Time Comin"… and if you're lucky enough to see them live, you'll keep coming back, again and again. I love this band!" – J. Cyrus Smith, KNBC-TV, Los Angeles
"Every time I add one of Q's songs to the station's playlist, my email box overflows with requests for more." – Vinny Smith, HonkyTonkJunkie.com
"Train Whistle" has all the elements of a long lasting tune that lovingly stays in your head, fresh and easy. Quenby's voice is angelic and hypnotic, the lyrics simple but strangely powerful. A great hummable melody that has "HIT" written all over it. This is good stuff!" – Stephen Eich, Producer & Executive Director, Pasadena Playhouse
"She has a nice way with her phrasing and it comes across beautifully on Train Whistle. The song is stunningly good." -James Sutherland, Americanaok Radio
"She sounds like the lesbian love child of Carly Simon and Patsy Cline"
-Scott Streetman, Film Professional